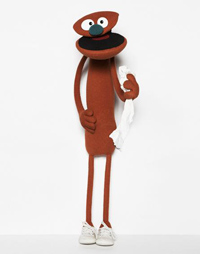 Mervin
NAME:
Mervin J Minky
NICKNAME:
Mervin (or 'Nutsack' according to Ed)
APPEARANCE:
Scrawny
PERSONALITY:
Hypochondriac
DISTINGUISHING FEATURES:
Tubular arms and body, Whiney voice
LIKES:
Pornography, Fat Ed, Pussy Monsta
DISLIKES:
Running out of porn
LOSER
Serial wanker, bedwetter, gibbering idiot, virgin… everyone agrees there's something about Mervin. Unfortunately it's something irritating.
Bullied and teased at school, Mervin was – and is – an awkward young puppet. His adoptive parents' divorce led him to form an obsessively close relationship with his mother – he still visits her for tea and listens while she tells him what a disappointment he is.
From paper rounds to pizza delivery, Mervin has blundered his way through a string of dead end jobs, causing chaos and destruction wherever he goes. As a chef he set fire to himself, as a shelf-stacker he got trapped overnight in a supermarket freezer, as a zoo-keeper he lost an arm to a panther, and as a dustman he was dragged into the back of a dustcart and compacted into a block of garbage.
Mervin also has a large collection of embarrassing Europop. He enjoys listening to music through his headphones, although technically he has no ears, and his attempts at dancing are freakish.
His wide-eyed dumb optimism means that while he is always smiling (except when faced with the paralysing prospect of meeting real women_ Mervin is largely unaware of the annoyance he is causing to others. He even blissfully imagines that 'Eddy' is his friend… and would even consider taking things further than that if pushed.
When not perusing his frankly world-beating collection of pornographic material, Mervin trawls the internet for love. But all women – and some unfortunate cats - find him disgusting a weird.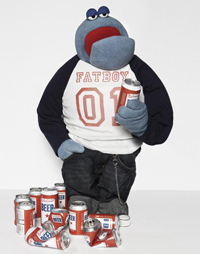 Ed
NAME:
Edward Tubbs
NICKNAME:
Fat Ed
APPEARANCE:
Bulbous
PERSONALITY:
Uncompromising
DISTINGUISING FEATRES:
Huge mouth belly
LIKES:
Pizzas, Burgers, Beer, Loud Music
DISLIKES:
Work, Mervin
INTO THE BLUE
Ed's from the other side of the Pond – and can NEVER go back, ok? – and his tastes are simple yet elemental… food, beet and a penchant for violence are the cornerstones of his world.
Ed doesn't suffer fools gladly, and for him there is no fool greater than Mervin. Their interactions frequently end in pain and injury… Mervin's.
He is also a secret gambler, whose addiction has led to embezzlement, fraud and the sale of Mervin's possessions to relieve his massive debts.
WHAT'S EATING GO?
Ed once worked as a short-order burger chef – his unflinching attitude led to tense confrontations with customers unhappy with the service and with Ed's culinary shortcomings. In an attempt to remedy the situation, Ed's boss sent him on a brief and wholly unsuccessful anger management course.
As restaurant critic for Puppeat, the puppet gourmet magazine, Ed briefly moved in more refined circles. His ability to sample an entire menu at one sitting initially appealed to the editors, but the witless and largely monosyllabic nature of his reviews soon led to his dismissal.
LADIES MAN
Ed is largely content to view woman from a distance – often through a pair of binoculars. However he is becoming increasingly intrigued by a small foul-mouthed female puppet called Apples…
MUSIC LOVER
Ed loves extremely heavy music and is a committed fan of metal bands such as Mudvayne and Raging Speedhorn. This has driven him to form his own band Stinkhole, for whom he 'sings'. His extreme stage-diving antics are legendary and there are industry rumours that on their upcoming and much-anticipated album "Brown Fury" the band may have finally discovered their 'sound'…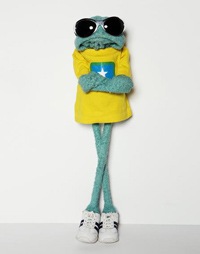 Lapeno
NAME:
Lapeno Enriquez
NICKNAME:
Peenie
APPEARANCE:
Cool
PERSONALITY:
Easy-going
DISTINGUISHING FEATURES:
Sunglasses, trainers
LIKES:
Girls, Coffee, Chilled Music, Football, Relaxation
DISLIKES:
Cold weather
THE EARLY YEARS
Lapeno grew up in Brazil where he spent the bulk of his formative years playing football. However his football took second place when he discovered he was incredibly attractive to women.
In fact, Lapeno's laid-back charm makes him attractive to everyone – especially women. But his intense charisma also makes him irresistible to men. His brief career as a rent boy on the beaches of Rio remains one of his darkest secrets.
An immensely talented footballer with a particular skill for dazzling trick shots, Lapeno once played for the Brazilian Puppet U21s team.
THE TRUTH ABOUT LAPENO
Few know that Lapeno was once engaged to a beautiful Brazilian model. On the day of the wedding, he realised he could not face committing himself to just one woman and fled the country. He subsequently did get hitched over here, however, but the circle was completed sadly when she left him… for another puppet.
THE PUPPET LIFESTYLE
Lapeno takes huge pride in his own appearance and is never seen without his sunglasses. He now earns his living as superstar DJ Peenie in the sickest new club in town El Bongo.
Thanks to the cosmopolitan puppet / human world we live in, Lapeno dates an enormous variety of girls – English, French, Japanese and Dutch.
It was at a local bar where Lapeno first met Ed and Mervin, for whom he has a genuine if mild affection, and agreed to share a flat with them.